Maker Studio Summer Camp 2022
Makers STEM Adventure Camp for 3rd – 6th graders.
| | |
| --- | --- |
| Week One: 6/20 – 6/24 | Makers Fab Lab / Totally Tech Makers |
| Week Two: 6/27 – 7/1 | Ooey Groovy Scientist |
| Week Three: 7/4 – 7/8 | No Camp |
| Week Four: 7/11 – 7/15 | Sew-Cool Makers Sewing Camp |
| Week Five: 7/18 – 7/22 | Makers Fab Lab / Totally Tech Makers |
| Week Six: 7/25 – 7/29 | Fashioneering Camp Experience: Intro to Digital Fashion and Design |
Maker Studio Summer Camp and Maker Studio Summer Calendar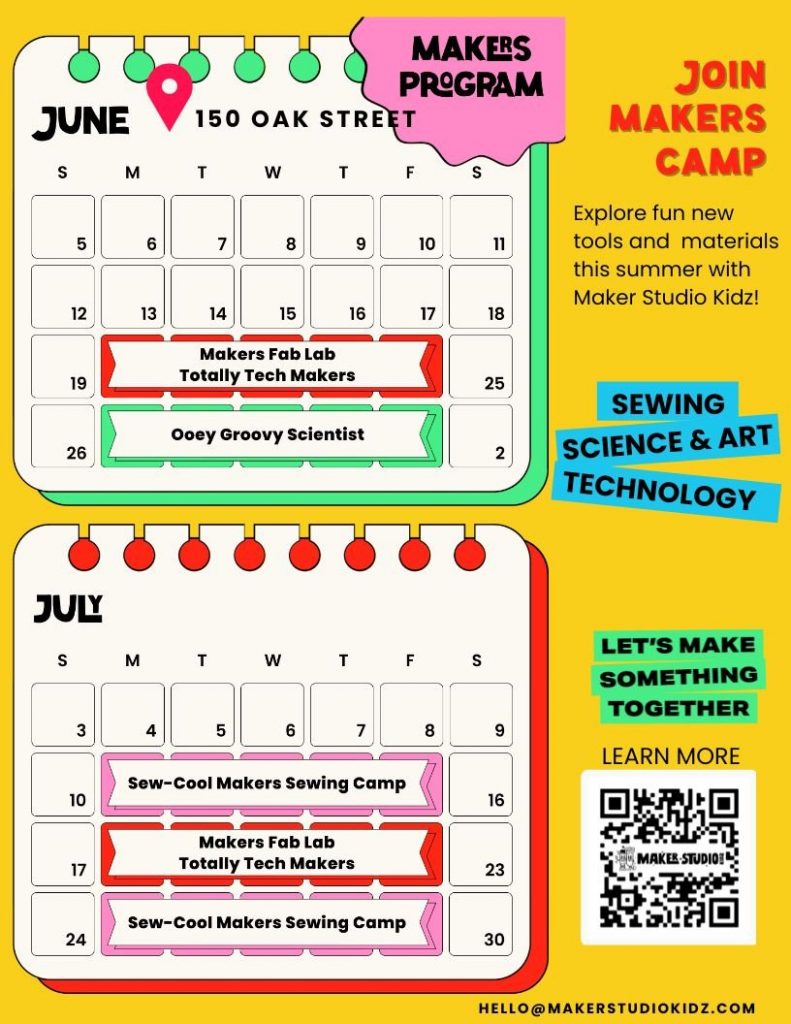 ---
Makers Fab Lab
Hey, do you love creating and making things? Join us this summer for a full week of Making and creating! Makers Fab Lab is all about the freedom of making, creating and having fun while learning how to apply new tools and materials to the maker magic. Students will learn to integrate a wide variety of cool tools like sewing machines with household materials like textiles, paints, and cardboard to create unique one of a kind projects. These include DIY screen-printing; sewing mix-media craft that unites balance, color and light together. Maker Studio camps provide kids with a well-rounded camp experience while mashing together fun topics with the importance of STEM activities.
Time: 9am – 3pm
Group Size: 10
Cost: $550
Material Fee: $5
---
Totally Tech Makers: 3D Modeling
Hey are you a total tech Makers or want to learn how to design and engineer fun gadgets this summer? Join us in our Totally Tech Makers programs as we learn how to translate our design ideas into digital models that can then be 3D printed. This course will provide kids with a full-immersive hands-on experience introducing engineering foundational skills , while learning how to integrate these principles into digital assets or 3D prints. Through a blended learning approach students will learn how to transform their creativity and imagination into interactive and immersive art using softwares like TinkerCad, Microbit and Blender.
Project will include learning how to design and print 3D parts, then be introduced to a small micro bit project with parts that will be used in their gadgets. During the second half of the course we will continue to build our skill in 3D modeling to learn how to take those designs in digital assets used in the software of blender. Once students learn how to design digitally the skills are transferable through many mediums. Students will explore art and design through color, shape, digital image composition, and simple character animation. They will also learn interactive storytelling skills and problem-solving along the way.
Time: 9am – 3pm
Group Size: 10
Cost: $550
Material Fee: $50
---
Ooey Groovy Scientist
Put on your safety goggles. Ooey Groovy Scientists are in town and ready for some messy experiments. Let's explore the intersection of making, mixing and the molecular bonds that establish the foundation for innovation. We will navigate design and engineering through the lens of science, running experiments to create scents, non-newtonian fluids, explore where colors come from and of course slime! Additional projects will explore resin art and fun sensory art crafts. We let our student's imaginations fly through the exploration of their world of sensory input and perceptions.
Time: 9am – 3pm
Group Size: 10
Cost: $546
Material Fee: $60
---
"Sew- Cool" Makers Sewing Camp
Join us for a full-week of sewing, making and creating in our "Sew-Cool" Makers Sewing Camp! During the week students will learn how to sew, design and create a handful of projects ranging from bags, and gearing up our wardrobe with a personalized lunch box or backpack for next school year.
At Maker Studio Kids we love teaching the process of making and blending the use of other tools into the magic of the maker process. This camp is a well-rounded camp exploring a variety of tools, materials and mediums for kids to be confident creative leaders. Let's start designing!
Time: 9am – 3pm
Group Size: 10
Cost: $536
Material Fee: $50
---
Fashioneering Camp: Intro to Digital Fashion and Design
Fashioneering = Fashion + Engineering
Do you love fashion or engineering the designs of clothes? Let's apply some engineering skills and turn those ideas into reality in the digital world! Learn to take your fashion designs into the metaverse and become a digital fashioneer in a week! This is a two part camp focusing on digital design mixed with hand-on projects introducing: sewing, design and 3D printing into the Fashioneering process. Projects include sewing basics and how to turn digital assets into 3d models for printing.
The morning session will focus on the Digital Fashioneering course , we will use Roblox Studio to create clothing & fashion accessories for your avatar or others. This course will introduce kids to 2D graphic design, games design principles, and entrepreneurship foundations through hands-on fashion projects. Join us for an exciting week of design, creating and making in our Fashioneering camp!
Time: 9am – 3pm
Group Size: 10
Cost: $575
Material Fee: $50