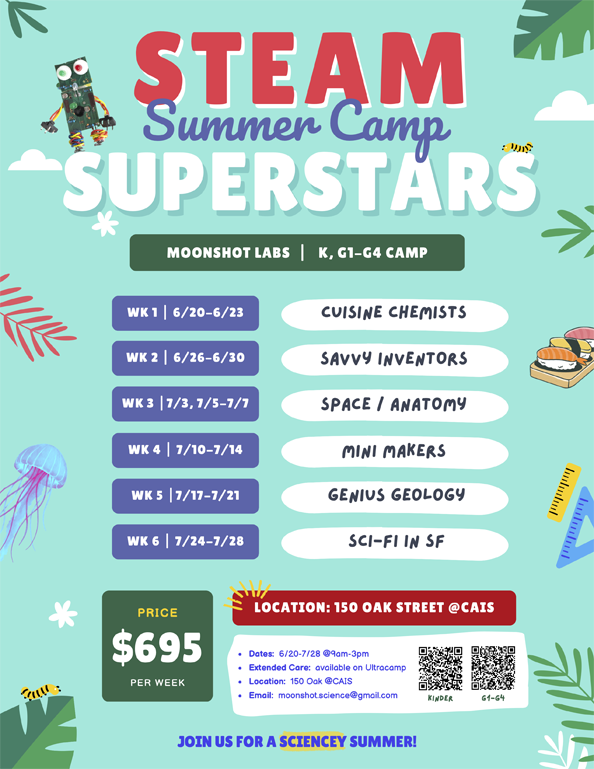 Presented by Moonshot Labs
Do you love science? Did you know you can use science to cook, explore nature and even make Disney movies? Become a STEAM Superstar and discover the wacky world of amazing anatomy, tinkering engineers, and crazy inventions!
Transform into Cuisine Chemists to trick your taste buds, Bay Biologists to bust San Francisco's famous myths, Minecraft Makers to create 'TNT' explosions and more! Join us at Moonshot Labs for a fun summer of STEAM shenanigans and maybe even some tasty treats.
Camp Cost: $695 per week
Enrollment: 6 min, 18 max
| | |
| --- | --- |
| Week One: 6/20 – 6/23 | Food Science—Brilliant Biochemists |
| Week Two: 6/26 – 6/30 | Inventions—Savvy Scientists |
| Week Three: 7/3, 7/5-7/7 | Anatomy—Daring Doctors |
| Week Four: 7/10 – 7/14 | Robotics—Minecraft Makers |
| Week Five: 7/17 – 7/21 | Geology—Curious Cadets |
| Week Six: 7/24 – 7/28 | Sci-fi in SF—Mythbuster Mavens |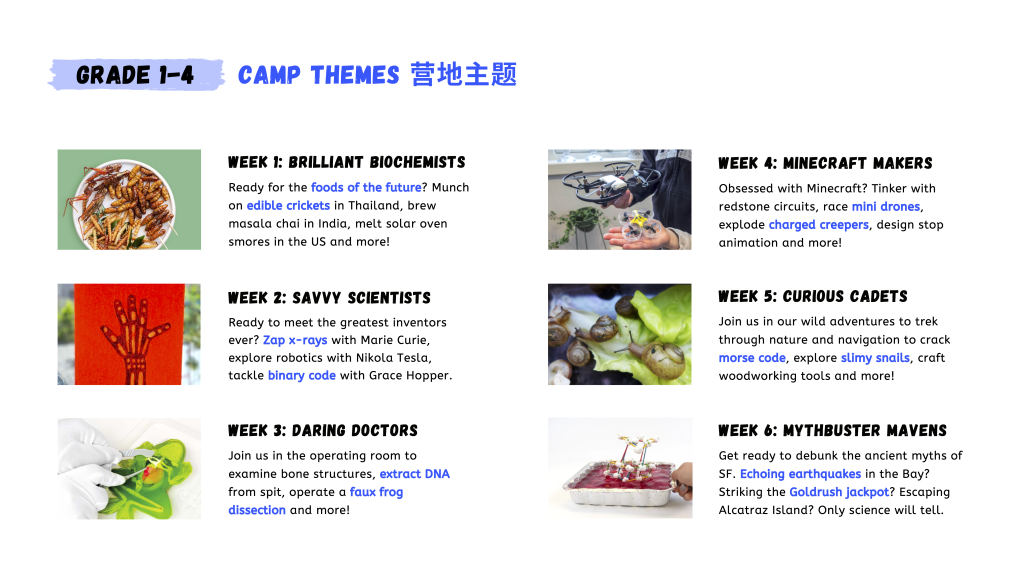 Week 1: Brilliant Biochemists | Food Science
Did you know scientists believe insects are the meat of the future? Join us as Brilliant Biochemists to explore the savory sciences! Get ready to discover the world of gastronomy, nutrition, and (agri)culture through the foods of the future. Let's munch on edible crickets in Thailand, brew masala chai in India, melt solar oven smores in the US and more!
*All ingredients are purchased from Whole Foods or Trader Joe's, except Edible Insects and Miracle Berries. Please complete the "Dietary Form" sent via email after registration. Feel free to contact us at moonshot.science@gmail.com with any questions!
Week 2: Savvy Scientists | Inventors
Ready to turn back time and meet the greatest inventors of our millennia? This summer, join us as Savvy Scientists to retrace the footsteps of founding scientists and discover their wildest inventions. Get ready to zap x-rays with Marie Curie, explore robotics with Nikola Tesla, tackle binary code with Grace Hopper and more!
Week 3: Daring Doctors | Anatomy
Have you ever wanted to take a look at your own DNA? Get ready to peer into the 37 trillion cells we're made of and crack the code of the human genome as Daring Doctors! Join us in the operating room and conduct x-ray imaging to examine bone structures, extract DNA from spit to explore genomics, operate a faux frog dissection to observe organ systems and more!
Week 4: Minecraft Makers | Robotics
Obsessed with Minecraft? We are too! Join us as Minecraft Makers to discover the epic 3D world of gaming, coding, and robotics. Unleash your imagination to tinker with redstone circuits, race mini drones, explode charged creepers, design stop animation and more!
Week 5: Curious Cadets | Geology
Have you ever wondered how to navigate the stars? Identify poisonous plants? Join us in our wild adventures to trek through nature and navigation as Curious Cadets. Discover how to crack morse code, explore medicinal plants, craft woodworking tools and more. You'll learn survival skills from the safety of camp, but we won't forget the s'mores!
Week 6: Mythbuster Mavens | Sci-fi in SFIs the coldest winter truly a summer in SF? Home to magic and mystery, San Francisco is full of science and fiction. Get ready to channel your inner Enola Holmes as Mythbuster Mavens to debunk the ancient myths of Silicon Valley. Sneaky sharks lurking in the Bay? Striking jackpot in the Goldrush? Escaping Alcatraz Island? Are these facts or fiction? Only science will tell.
---
Moonshot Labs introduces students to the fundamental sciences via the United Nations Sustainable Development Goals (SDGs). Through hands-on experiments, students develop a scientific mindset and build creative thinking and problem solving skills to tackle the world's most pressing problems. We work with 30+ school partners. Click here for fun sample experiment photos!
Contact If you have any questions, feel free to reach out to Steph at moonshot.science@gmail.com or (530) 407-3224. Thanks!