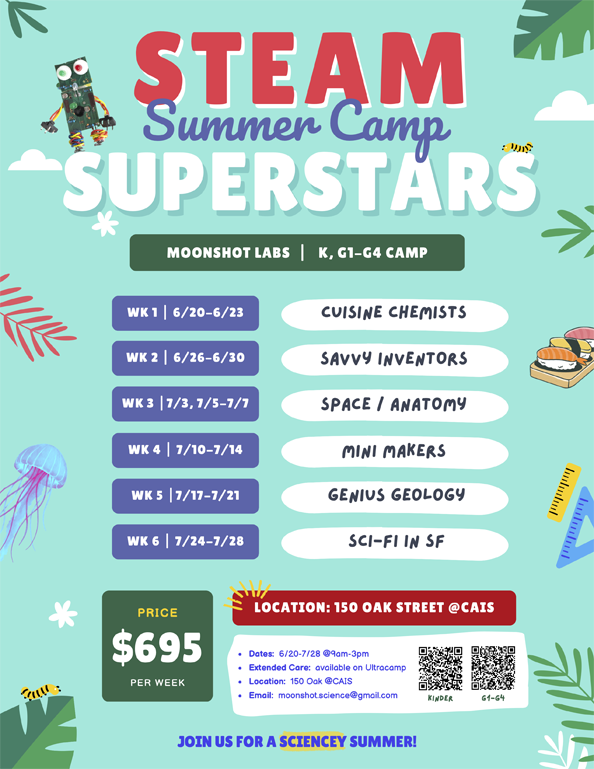 Presented by Moonshot Labs
Do you love science? Did you know you can use science to cook, explore nature and even make Disney movies? Become a STEAM Superstar and discover the wacky world of amazing anatomy, tinkering engineers, and crazy inventions!
Transform into Cuisine Chemists to trick your taste buds, Bay Biologists to bust San Francisco's famous myths, Minecraft Makers to create 'TNT' explosions and more! Join us at Moonshot Labs for a fun summer of STEAM shenanigans and maybe even some tasty treats.
Camp Cost: $695 per week
Enrollment: 6 min, 18 max
| | |
| --- | --- |
| Week One: 6/20 – 6/22 | Food Science—Cuisine Chemists |
| Week Two: 6/26 – 6/30 | Inventions—Messy Makers |
| Week Three: 7/3, 7/5-7/7 | Space—Amazing Astronauts |
| Week Four: 7/10 – 7/14 | Robotics—Tinkering Techies |
| Week Five: 7/17 – 7/21 | Geology—Radical Rangers |
| Week Six: 7/24 – 7/28 | Sci-fi in SF—Bay Biologists |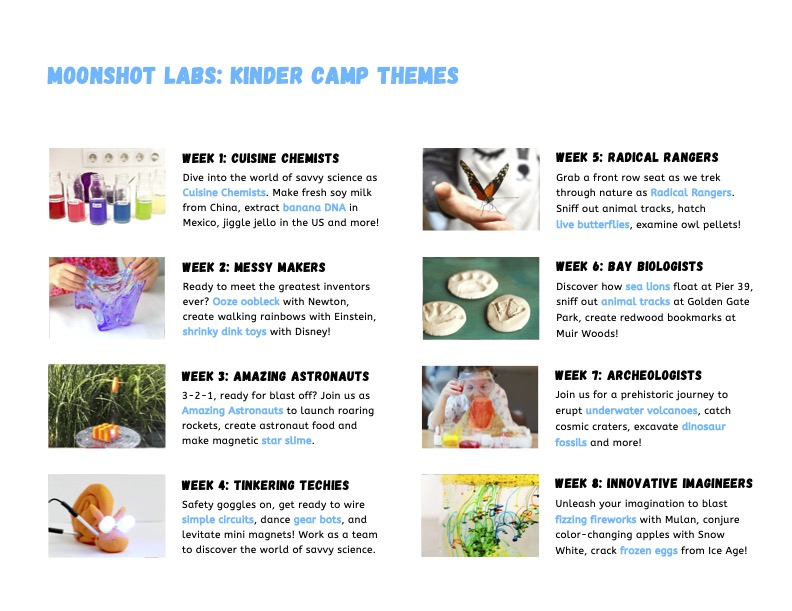 Week 1: Cuisine Chemists | Food Science
Ready to make ice cream? Whip up edible slime? Join us as Cuisine Chemists to explore the savory sciences. Dive into the wacky world of taste buds, tests, and tummies. Let's make fresh soy milk from China, extract banana DNA in Mexico, jiggle jello in the US and more!
*All ingredients are purchased from Whole Foods or Trader Joe's. Please complete the "Dietary Form" sent via email after registration. Feel free to contact us at moonshot.science@gmail.com with any questions!
Week 2: Messy Makers | Inventors
Ready to turn back time and meet the greatest inventors ever? This summer, join us as Messy Makers to discover the coolest creations with some marvelous makers. Get ready to ooze oobleck with Newton, create walking rainbows with Einstein, shrinky dink toy figurines with Disney and more!
Week 3: Amazing Astronauts | Space
3-2-1, ready for blast off? Hop aboard the International Space Station as Amazing Astronauts to discover the world of gas giants and shooting stars. Our space journey will take us to launch roaring rockets, make magnetic star slime, create astronaut food (and more!) to explore our magnificent solar system.
Week 4: Tinkering Techies | Robotics
Do you like building? Join us and become Tinkering Techies. Safety goggles on, we'll be wiring simple circuits, dancing gear bots, and levitating mini magnets! Work as a team to discover the basics of building, discover a love of tinkering, and explore the world of savvy science.
Week 5: Radical Rangers | Geology
Have you ever wondered why bats hang upside down or how wolves howl? Grab a front row seat as we trek through nature as Radical Rangers. Discover how to sniff out animal tracks, hatch live butterflies, examine owl pellets and more. Buckle up, it's time for some exciting expeditions!
Week 6: Bay Biologists | Sci-fi in SFDid you know the Bay Area is home to over 500 species of critter crawlers and magnificent mammals? Join us as Bay Biologists to explore San Francisco's incredible biodiversity. Discover underwater volcanoes in Clear Lake, how sea lions float at Pier 39, sniff out animal tracks at Golden Gate Park and more! All discovery will be completed on the CAIS campus.
---
Moonshot Labs introduces students to the fundamental sciences via the United Nations Sustainable Development Goals (SDGs). Through hands-on experiments, students develop a scientific mindset and build creative thinking and problem solving skills to tackle the world's most pressing problems. We work with 30+ school partners. Click here for fun sample experiment photos!
Contact If you have any questions, feel free to reach out to Steph at moonshot.science@gmail.com or (530) 407-3224. Thanks!