Presented by Moonshot Labs
Do you love science? Did you know you can use science to cook, explore nature and even make Disney movies? Become a STEAM Superstar and discover the wacky world of amazing anatomy, tinkering engineers, and crazy inventions!
Transform into Cuisine Chemists to trick your taste buds, Bay Biologists to bust San Francisco's famous myths, Minecraft Makers to create 'TNT' explosions and more! Join us at Moonshot Labs for a fun summer of STEAM shenanigans and maybe even some tasty treats.
Camp Cost: $695 per week
Enrollment: 8 min, 14 max
| | |
| --- | --- |
| Week One: 6/20 – 6/22 | Wacker Weather |
| Week Two: 6/26 – 6/30 | Amazing Astronauts |
| Week Three: 7/3, 7/5-7/7 | Dino Detectives |
| Week Four: 7/10 – 7/14 | Incredible Oceanauts |
| Week Five: 7/17 – 7/21 | Mini Magicians |
| Week Six: 7/24 – 7/28 | Sensory Shenanigans |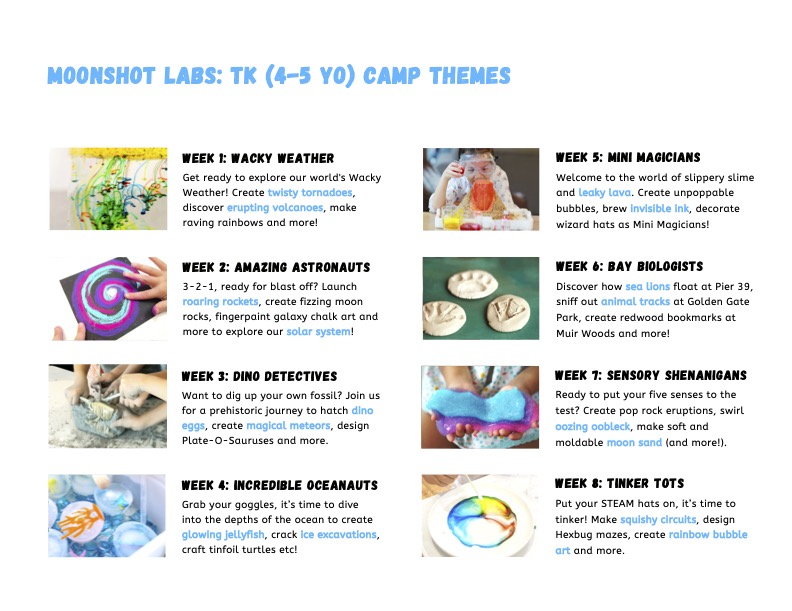 Week 1: Wacky Weather
Have you ever wondered why volcanoes erupt or how snowflakes form? Get ready to explore the world of Wacky Weather! Let's create twisty tornadoes, make shivering snowstorms, and explore raving rainbows to discover our planet's weather wonders.
Week 2: Amazing Astronauts
3-2-1, ready for blast off? Hop aboard the International Space Station as Amazing Astronauts and discover the world of outer space. Our journey takes us to launch roaring rockets, create fizzing moon rocks, fingerpaint galaxy chalk art and more to explore our magnificent solar system!
Week 3: Dino Detectives
Have you ever wanted to uncover your own fossil? Chase after a shooting star? Join us for a prehistoric journey as Dino Detectives. Turn back time to hatch dino eggs, create magical meteors, design Plate-O-Sauruses and more to become mini paleontologists!
Week 4: Incredible Oceanauts
Grab your goggles, it's time to meet some shiny seashells and crustacean creatures! Join our team as Incredible Oceanauts to explore the underwater universe. Dive into the depths of the ocean to create glowing jellyfish, crack ice excavations, craft tinfoil turtles and more!
Week 5: Mini Magicians
Welcome to the world of slippery slime and leaky lava. Pull out your wands as Mini Magicians to create unpoppable bubbles, brew invisible ink, decorate wizard hats and more as we unleash our imagination to discover messy magic and crafty chemistry!
Week 6: Sensory Shenanigans
Ready to dip your fingers into oozing oobleck? Play Smell and Go Seek? Put your five senses to the test for some Sensory Shenanigans. Erupt epic explosions with Mentos and pop rocks, create homemade scratch and sniff paint, make soft and moldable moon sand for unlimited exploration with sensory science!
---
Moonshot Labs introduces students to the fundamental sciences via the United Nations Sustainable Development Goals (SDGs). Through hands-on experiments, students develop a scientific mindset and build creative thinking and problem solving skills to tackle the world's most pressing problems. We work with 30+ school partners. Click here for fun sample experiment photos!
Contact If you have any questions, feel free to reach out to Steph at moonshot.science@gmail.com or (530) 407-3224. Thanks!