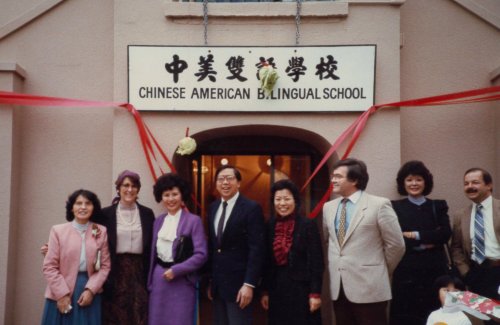 When the doors of Chinese American International School opened on September 12, 1981, in the basement of a University of California Extension Building, four of ten enrolled students showed up for class. Undeterred, founder Carol Ruth Silver, and director Shirley Lee forged ahead. 
CAIS attracted national attention from its inception. Former U.S. Senator Paul Simon handed out diplomas at CAIS's first graduation in 1987. That same year, CAIS moved to the Presidio, and the U.S. Department of Education designated CAIS as the "national prototype for Chinese language education in elementary schools."
Between 1992-1994, CAIS added the middle school grades. Soon after the middle school was established, Shirley Lee orchestrated the first exchange trip with Shanghai No. 3 Girls' School.
In 1997, the school moved into its main campus at 150 Oak Street, with just 200 students including 28 middle school students. In 2010, the Early Childhood Division moved to its new home, The Alice A. Carnes Center, at nearby Waller Street.
From 1997-2015, our middle school population grew to 120 students, which led to the middle school moving to the 888 Campus, at the intersection of Gough and Turk Streets. Today, CAIS educates nearly 500 children on three campuses. Our future looks especially bright with the purchase of our new home on 19th Avenue, and plans progressing to move in during the 2024-2025 school year.