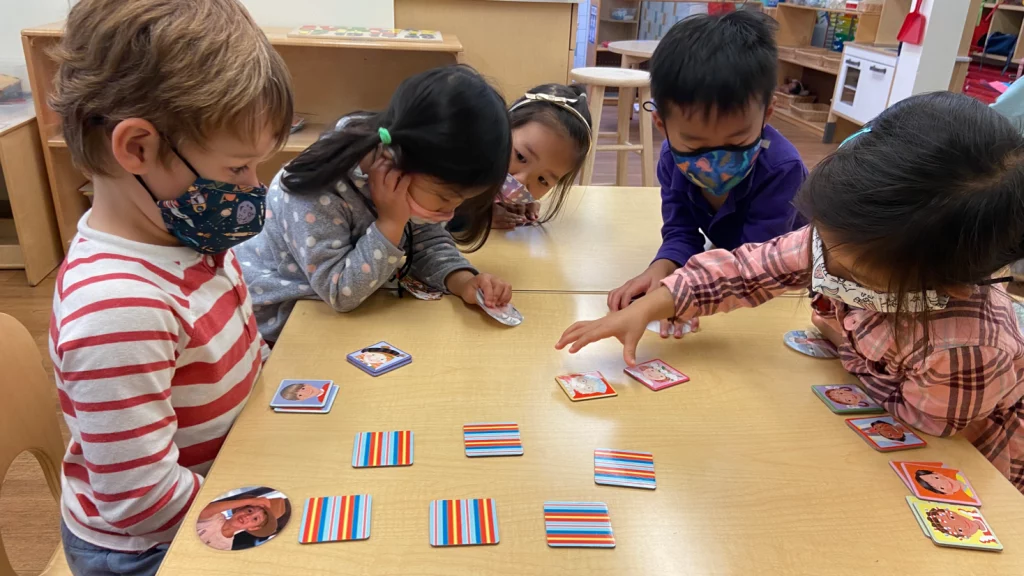 See recent Early Childhood Division news and recent Preschool news
Preschool Overview
The full Mandarin immersion Preschool program consists of four classes of 18 students. Each class has a mixed grouping of three and four-year-olds with one lead teacher and one teaching associate.
The Preschool practices a holistic approach to learning. Equal emphasis is placed on language, cognitive, physical, artistic, and social and emotional development. Play is recognized as an important part of learning in Preschool, and all children have the opportunity for child-directed, open-ended play on a daily basis.
Faculty design a fun and engaging program; the curriculum is organized around integrated units of study that include elements of math, literacy, music, social and emotional learning, and science. In all classes students have the opportunity to learn in whole group, small group and individualized settings.
The focus is on Chinese language development through speaking and listening. Teachers present the language to students through songs, poems, chants, stories and games that provide repetition and practice. Teachers begin to introduce some Chinese characters, including students' names, the numbers and vocabulary tied to units of study. Cultural celebrations are also an important part of the Chinese curriculum.
Arts integration is another important component of the Preschool program. We have three dedicated teachers who work with students on a weekly basis to provide creative and enriching experiences in physical education, music and movement and visual art. The Arts philosophy in the Preschool is focused on creative expression, exposure to important musical or art concepts, and sensorial exploration.
---
Kindergarten and First Grade Overview
There are four sections of Kindergarten, averaging 14 students per section, and three sections of students in first grade, averaging 17-18 students per section. Classes are taught by one lead teacher and one teaching associate.
Consistent approaches to teaching and learning in the core academic areas ensure coherence from grade to grade. For instance, in English language arts, beginning in Kindergarten and continuing through second grade, we use the Fundations program for reading and spelling. This approach provides teachers with the skills and tools needed to present a structured, sequential and cumulative phonics spelling program.
The Chinese curriculum follows the standards and guidelines set by the American Council on Teaching of Foreign Languages (ACTFL) for listening, speaking, reading and writing. Our Chinese curriculum integrates both content and culture into language development. In the lower school, the Writers Workshop program employed in the curriculum in English has been appropriately adapted to the curriculum in Chinese, and this work is being extended into the Chinese literacy curriculum in Pre-K and the middle school.
Oral presentation skills in both Chinese and English are introduced in Kindergarten and 1st grade. Students develop confidence in public speaking through activities in class as well as Chinese and English oral presentations which take place twice a year. In the younger grades, technology is employed to support such learning objectives as Chinese character recognition, Chinese character stroke order and correct pronunciation of the four tones in Chinese.
In the Kindergarten Chinese classroom, emphasis is placed on comprehending simple stories and learning to recognize Chinese characters. The pinyin Romanization system is introduced in first grade as a scaffold for reading and writing. In first grade, the focus continues with the aural acquisition of language through identifying sounds, telling the difference between and attaching meaning to sounds. Students learn fundamental conversational skills, simple reading strategies and develop the ability to write short sentences.