The Preschool program is where a CAIS education begins. For the 2024-2025 school year, our program will serve children who are two years old by August 15, 2024. (Toilet training by the start of school is not required to join the program.) The Preschool Two-Year-Old Class follows the same school calendar as other grades at CAIS.
The Two-Year-Old Class is scheduled five days a week from 9:00 a.m.–3:30 p.m. Children may be dropped off as early as 7:45 a.m. and stay at the extended care as late as 6:00 p.m. Parents can pick up anytime between 3:30 p.m. and 6:00 p.m. From 12:30-2:30 p.m. the children will be napping. We will serve a healthy snack—substantial, organic, and locally grown when possible—that is included in the tuition.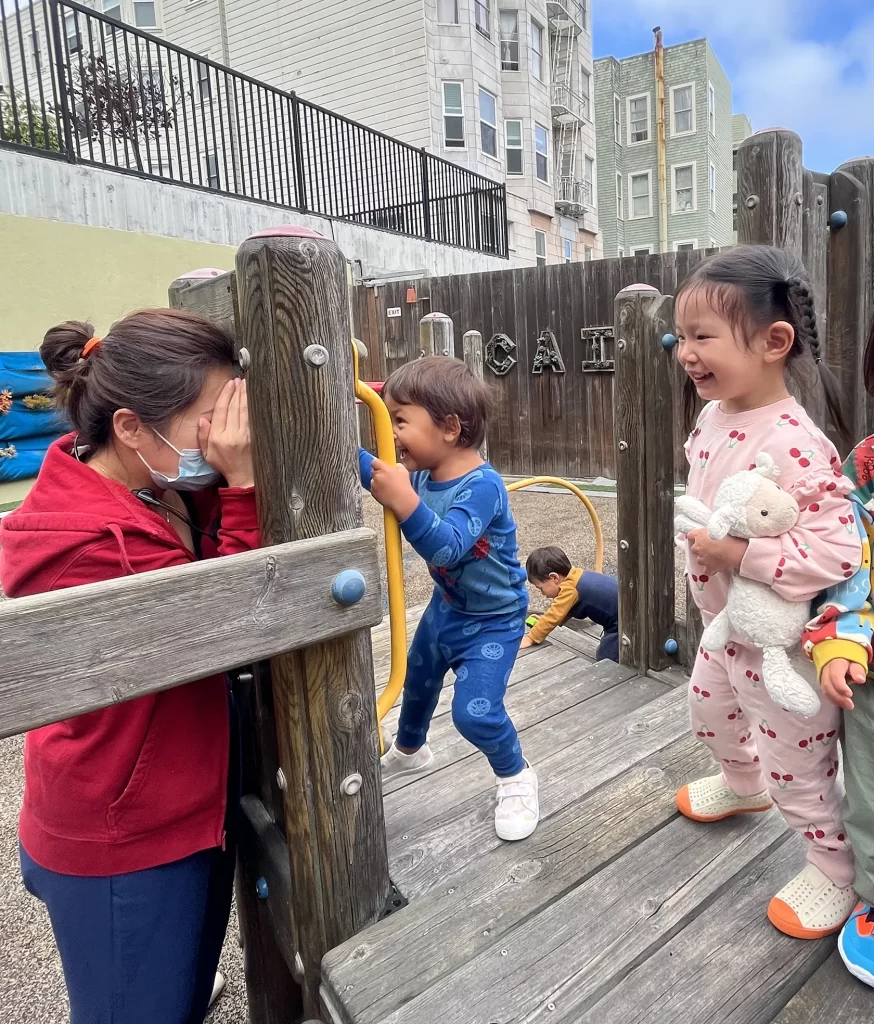 ---
Important Details
Teacher-student Ratio: 1:6 /1:5
School Hours:

5 days a week
Regular school hours: 9:00 a.m.-3:30 p.m.
Morning drop-off: 7:45 a.m.-9:00 a.m. ( complimentary)
Extended care: 3:30 p.m.-6:00 p.m.

No Potty Training Requirement
---
A Joyful First Step at A Full Mandarin Immersion Program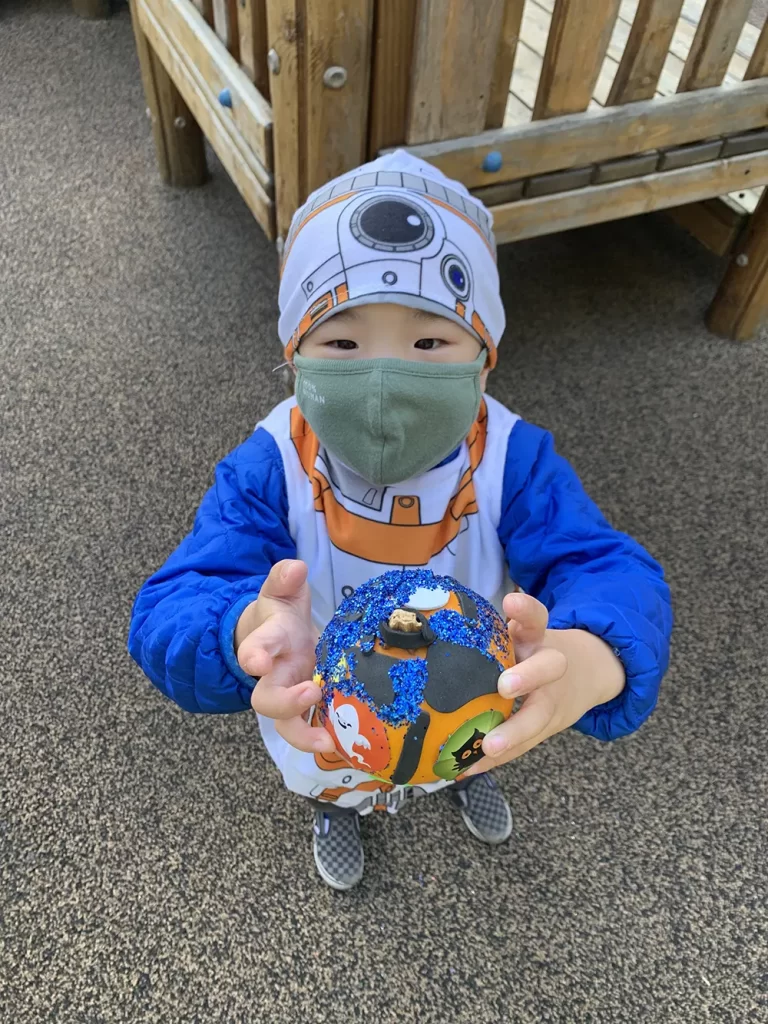 In the preschool, young children are guided by our experienced Early Childhood teachers through days of exploration and wonder. The full immersion program strives to help children develop Chinese language proficiency, social and emotional skills, resiliency, and physical independence and lays the foundation for future years at CAIS. The Preschool Two-Year-Old Class is age appropriately tailored to our two-year-olds following these goals. Imitation, story time, free play, song and dance are all part of what the children experience.
---
"Early childhood is a distinct period of life that has value in itself as well as creating the foundations for later years."
Gentle Beginnings Toward a Whole Child Curriculum
Two-year-olds attend preschool in one of our beautiful, fully-licensed classrooms at our preschool campus. Teachers work closely with families to ensure a smooth transition to school and to create an experience that supports each child's social, emotional, cognitive, and physical development. A balanced routine gives children the security from which to explore freely and confidently.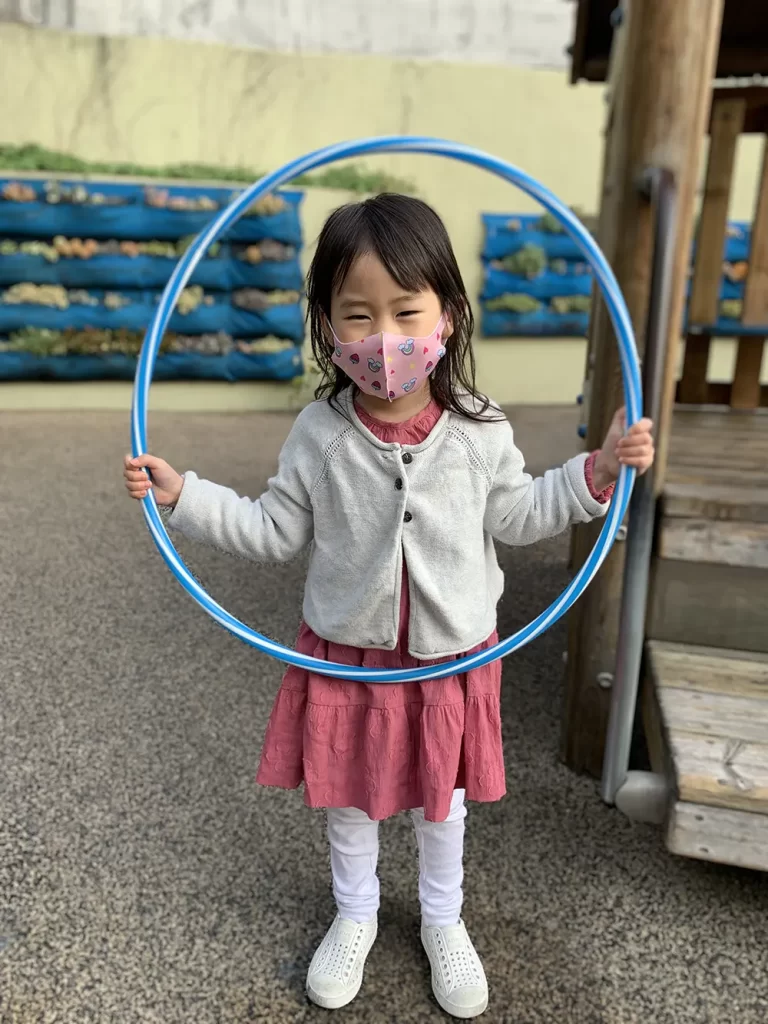 ---
Play-based and Child-centered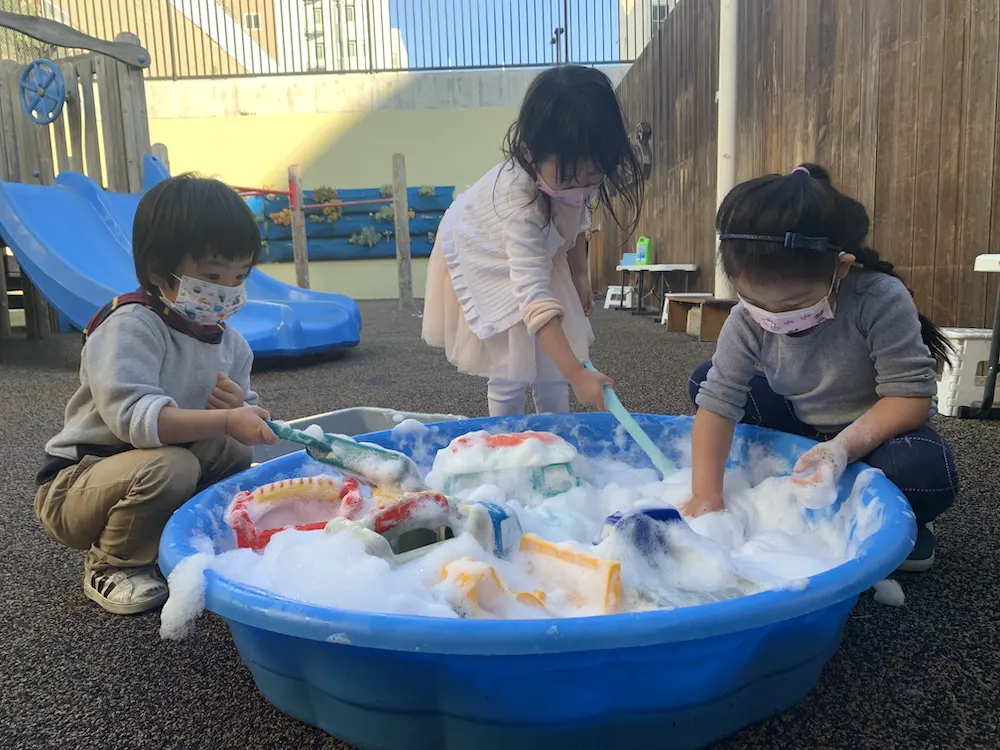 Two-year-olds have an amazing capacity to engage in learning and organize vase amounts of new information. They experience the world and build knowledge holistically during simple moments of play, exploration, and interaction with objects and with other people. Our teachers are mindful of each child's interests, development and needs. They plan curriculum that aligns with children's inborn learning agenda and assess children based on observation and documentation.
Play is the most important "work" for children during the day. Teachers observe children's play and developmental continuity and support children's learning by following each child's own learning agenda. A thoughtful design of indoor and outdoor environment and intentional selecting of materials invites toddlers to explore experiences that challenge their emerging skills, concepts, and ideas. Behind the play, teachers plan curriculum and facilitation based on children's life experience, such as the topics of myself, emotions, family and friends, school life and routines and self care, etc. Through verbal and nonverbal interaction, teachers model language and act as guides, listeners, and "problem-posters" that promote children to extend and expand their ideas and facilitate new and more complex thinking and exploration.
---
Two-Year-Old Class Daily Schedule Example
7:45-9:00 Complimentary morning care
9:00-9:15 Drop-off & Bathroom time
9:15-10:00 Outdoor Snack & play
10:00-11:00 Community Circle, Story Time, Music & Movement, Indoor Play
11:00-12:00 Wash Up, Bathroom time & Lunch
12:00-12:30 Quiet Indoor Play, Story Time, Cleaning Up, and Bathroom time
12:30-2:30 Nap
2:30-2:45 Clean up mat & blanket
2:45-3:15 Outdoor Snack & play
3:15-3:30 Pick-up
3:30-6:00 Extended care
---
Next Steps
Please reach out to admission@cais.org if you have any questions. If you are ready, we invite you to Inquire Now for the Two-Year-Old Class for our Preschool Program.
As part of getting to know your child, we will be asking you to make three very short videos. Please see these updated video guidelines which will also be sent to you after application.