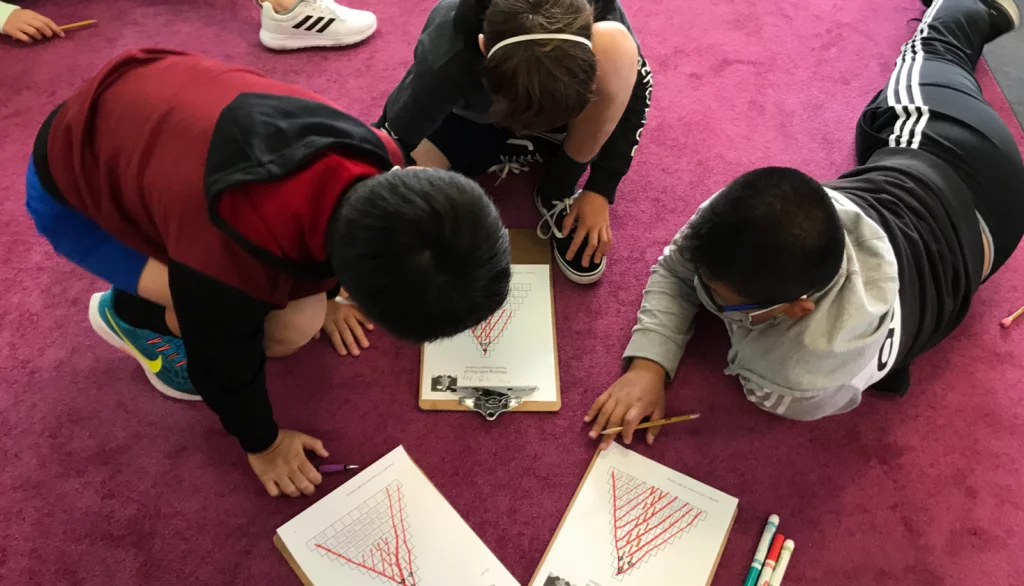 Lower School has two to three sections of students each in second-fifth grades, averaging 20 students per section. The immersion model is 50/50 in Lower School, alternating Chinese and English days with Lower School has two to three sections of students each in second-fifth grades, averaging 20 students per section. The immersion model is 50/50 in Lower School, alternating Chinese and English days. Classes are taught by a lead teacher in Chinese and a lead teacher in English, and grades are supported with 1-2 Teaching Associates. The Lower School curriculum is organized into units of study that include reading, writing, math, word study, social studies, and science. In addition to these core academic subjects, specialists teach science, art, music and movement, physical education, and coding. 
Consistent approaches to teaching and learning in the core academic areas ensure coherence from grade to grade. For instance, in English language arts, beginning in second grade, we use the Fundations program for reading and spelling that was introduced in K & 1st. This approach provides teachers with the skills and tools needed to present a structured, sequential and cumulative phonics spelling program. Words Their Way is a program introduced in third grade and continued through fifth grade; it offers a developmental curriculum for phonics and spelling instruction, reading fluency and vocabulary development. Continued through fifth grade, writers workshop is a student centered, research-based approach to teaching writing in which students learn the process of writing about topics of their choosing in a variety of genres. Teachers use authentic literature to model great writing, and incorporate significant blocks of independent writing time into the day, during which they have the opportunity to work with students individually. Everyday Mathematics is a program we use from through fifth grade that emphasizes the application of math to real-world situations. Numbers, skills and math concepts are linked to situations and contexts relevant to everyday life. Through Everyday Mathematics, teachers incorporate mathematics into daily classroom routines and other subject areas.
The Chinese curriculum follows the standards and guidelines set by the American Council on Teaching of Foreign Languages (ACTFL) for listening, speaking, reading and writing. Our Chinese curriculum integrates both content and culture into language development. In the lower school, the Writers Workshop program employed in the curriculum in English has been appropriately adapted to the curriculum in Chinese, and this work has been extended into the Chinese literacy curriculum in Preschool and the Middle School.
Oral presentation skills in both Chinese and English are emphasized throughout the lower school. Students develop confidence in public speaking through activities in class as well as Chinese and English oral presentations which take place twice a year.
In the younger grades, technology is employed to support such learning objectives as Chinese character recognition, Chinese character stroke order and correct pronunciation of the four tones in Chinese. As students proceed through the grades, increasingly complex technology-based projects are introduced to enhance Chinese learning.
In second grade, the focus continues with the aural acquisition of language through identifying sounds, telling the difference between and attaching meaning to sounds. Students learn fundamental conversational skills, simple reading strategies and develop the ability to write short sentences. In math, mastering addition and subtraction and familiarity with the concept of multiplication is the focus. In the third grade, students engage in conversational topics in depth and become familiar with using the Chinese dictionary as a tool. Essay writing is introduced. In math, students learn one and two-digit multiplication and division problems. Focus in fourth grade is placed on developing a richer vocabulary and applying Chinese language in various settings. Writing projects including letter writing, skits and stories. Strategies are introduced for solving word problems. Fifth graders learn to express their opinions through debate, and interpretative, interpersonal and presentation skills are all enhanced through project-based lessons. Fifth grade math focuses on geometry, fractions, algebraic concepts as well as computing with speed and accuracy.