Thanksgiving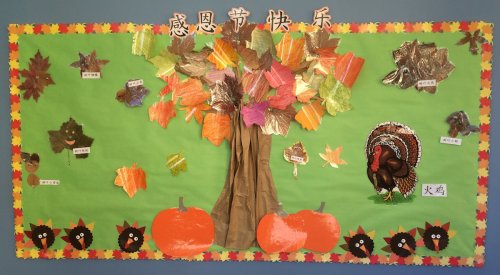 Holidays and food are both important elements of the CAIS community and Thanksgiving is no exception. The day before the Thanksgiving break, the halls of CAIS are full of food, sharing and laughter.
Each classroom organizes its own Thanksgiving feast of traditional and Asian-inspired dishes. Families serve the meals buffet style in each classroom. Teachers, administrators and staff fine-tune the sport of "grazing" from classroom to classroom on the delectable food the families provide for the community.
---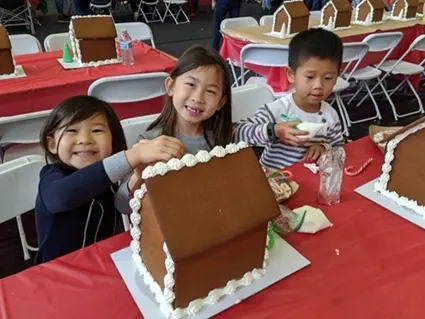 Holiday Faire
Held on a Saturday in early December, the Family School Alliance-organized Holiday Faire has grown over the years to become a way for the community to kick off the holiday season together.
The team of dedicated FSA committee members, middle school volunteers, parent helpers, staff and enthusiastic families come together to create a memorable event. The Holiday Faire is an action-packed day of gingerbread houses, face painting, tasty treats, creative games and clothing and toy drives for local charities.
---
Mass Greeting is a community-wide event in which students lead the school community in songs, music and dance to celebrate Chinese New Year. Students are encouraged to wear traditional Chinese outfits or the color red on this day to signify the lucky color for the new year. The culminating presentation at Mass Greeting is the lion dance, which is performed by the sixth grade class. The dance is symbolic and is performed as a ceremony to exorcise evil spirits and to summon luck and fortune for the new year. The sixth grade class takes its lion dance responsibilities very seriously and with pride. They will continue to perform during the weeks following Mass Greeting, during classroom visits and at community events.
Grandparent and Special Elders Luncheon
Grandparents and Special Elders are invited to share in the excitement of Mass Greeting, followed by a buffet luncheon.
---
ShowCAIS is CAIS's annual fundraising gala and all-around fantastic party. There are many facets to ShowCAIS, including an online auction prior to the gala, a live auction at the event, Fund-A-Need paddle raise, party sign ups leading up to the event and much more. The gala is held at a local San Francisco hotel and is a great way to dress up and party all while supporting CAIS.