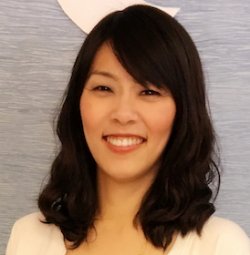 Sad as we are to say farewell to departing rock star Kevin Chang after this school year, we are relieved and thrilled that lightning has struck CAIS twice. After an exhaustive international search, it is our pleasure to announce that Cindy Chiang, also a leader in the field of Chinese immersion, will be succeeding Kevin as CAIS Chinese Program Director. Hailing from Taiwan, Ms. Chiang is a veteran immersion educator with 17 years experience, including four years in her current role as Chinese Academic Dean at Silicon Valley International School (formerly known as International School of the Peninsula). She holds a bachelor's degree in English Language and Literature from National Chung Hsing University, Taichung, Taiwan; credentials from National University of Tainan and University of California San Diego; and a master's degree in TESOL from San Jose State University. Reflecting on her upcoming work at CAIS, she shares:
I am greatly honored to become the next Chinese Program Director at CAIS this August. I have already gotten a strong feel of the tight knit community you have here. This resonates with the motto I have always lived by as a leader: 一个人走,走得快;一群人走,走得远 (If you want to go fast, go alone; if you want to go far, go together). I am so excited and thrilled about the new chapter that we will embark on together.

– Cindy Chiang, Chinese Program Director
I have admired Cindy's work for years. She is regularly featured at national conferences and we have even presented together in the past at the National Chinese Language Conference (NCLC). I also wrote a brief for Asia Society in which I featured Cindy's work in integrating school culture between languages/cultures. For several years, Cindy has worked with members of the CAIS Chinese language program through her work on our Early Childhood Chinese Immersion Forum and the Chinese Innovation Forum.
We are confident that she will boldly continue our work to Reimagine Immersion, which includes a milestone shift to full immersion in Preschool beginning this fall. Her philosophy and approach also mirror our Strategic Vision goal to Reimagine Our Culture of Learning. As Cindy notes, an immersion language program must foster a truly inquisitive learning environment in which students are driven by their own wonder and curiosity.
We feel extremely fortunate to have our Chinese Program leadership transfer between such capable hands. This dovetails with brightening news on the pandemic front such that I can even dare to imagine that families may be able to meet Cindy in person at some point during the 2021-2022 school year. A bright future indeed!
Best,
Jeff