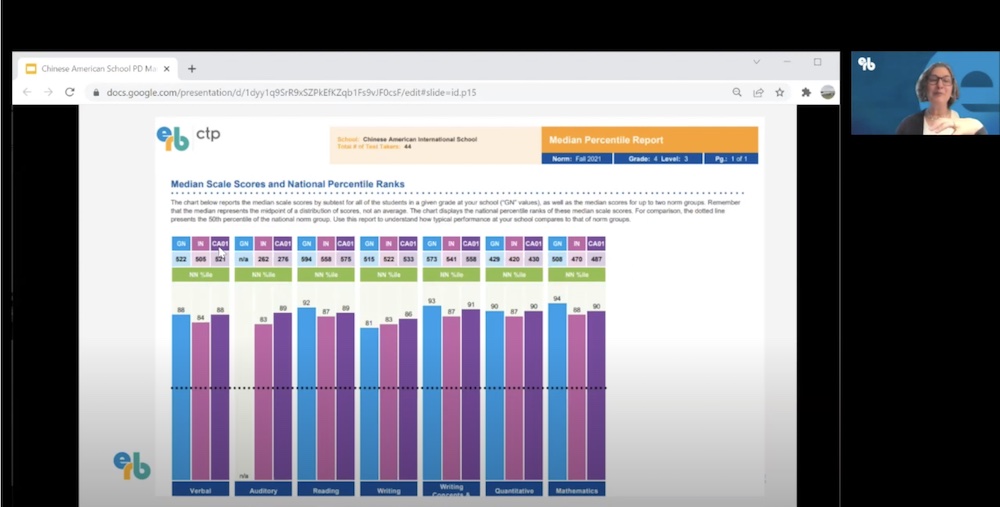 A perennial point of curiosity among prospective parents—which can sometimes even linger for current parents—is whether Mandarin immersion comes at the expense of achievement in English. The great news from research—and from generations of CAIS students' experiences—is that learning is not a zero sum game. In fact, learning in each language builds connections and pathways that support learning in the other. We see this borne out in a variety of ways with CAIS students; one data point that provides helpful perspective in the context of peer school comparison is the results from annual ERB tests of 4th-7th graders. These standardized tests gather information on students' English verbal reasoning, reading comprehension, writing mechanics, and writing concepts and skills, as well as their quantitative reasoning and mathematics.

As Director of Curriculum, Instruction, and Professional Development Cristina Calcagno shared with 4th-7th Grade parents this spring, some highlighted takeaways regarding how this year's ERB results reflect on CAIS overall include:
CAIS performed exceptionally well vis-a-vis our independent school peers, especially given that our scores this year are normed against a three-year average of scores pre-COVID. This means our students' post-COVID performance is still consistent with (or higher) than the median score of independent schools pre-COVID.
CAIS is part of a norm group representing the greater Bay Area, a particularly high performing group. CAIS is meeting or exceeding those scores (taken from a pre-COVID norm group, again), including among monolingual peer schools!
Our students are outperforming monolingual school peers in English, which underscores the findings that, over the course of elementary and middle school, dividing instructional time between two languages actually provides a gain in both.