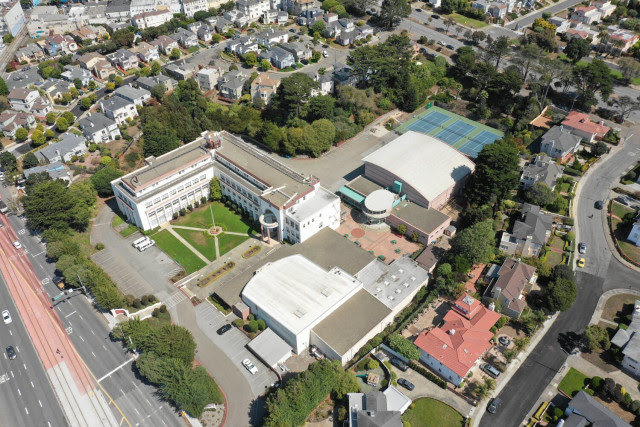 We haven't had news this big to share since Carol Ruth Silver first founded CAIS in 1981. Since those hope-filled days, CAIS has remained the pioneering home for Chinese immersion education, but without a home that was all our own. Over the years, our groundbreaking and growing programs have necessitated moving successively to three locations around San Francisco and into our current campus configuration, spread across three separate buildings many blocks apart from one another. Our main campus has grown from basement rooms of a UCSF extension building to the Presidio and then on to our current shared space on Oak Street with French American. Each of these moves reflected milestones in our maturation as an institution.

As we complete our fourth decade, the words of Confucius ring true—we no longer have any doubts 四十而不惑—and we are ready for our next evolution. Several months ago, the 5.38 acre campus at 3250 19th Avenue that formerly housed Mercy High School until June 2020 became available for purchase and, following a rigorous process, CAIS was selected from a competitive field of schools to purchase this outstanding property.

Some uniquely compelling qualities of the 19th Avenue campus include:
Facilities totaling 120,000 sq. ft. including 78,000 sq. ft. of academic program space (our largest current classroom can fit inside the smallest classroom on this campus)
Multipurpose athletic facilities including full-size gymnasium/indoor basketball court, and locker rooms
Arts Complex with a 455-seat theater, spacious dance studio, and art studio with a kiln
In discussing with the Board of Trustees the unique value represented by the 19th Avenue campus, we shared that having our own space would give us autonomy—free from the constraints and restrictions of co-tenants or landlords—to do whatever we imagine, and things we haven't yet imagined. The 19th Avenue campus presents us with the opportunity to position CAIS for the next 75 years and embrace our place as the epicenter of Chinese education in the United States.

CAIS and the current owner of the 19th Avenue campus have signed a Purchase and Sale Agreement that is being reviewed for approval by the Vatican, as required for property owned by the Catholic Church, and by the California Attorney General, as required by law. In addition, we must finalize financing with lending institutions before we can close on the purchase of the property and acquire the 19th Avenue campus. We anticipate the timeline for closing on the purchase is a matter of months; the timeline for addressing construction, funding, and program logistics is likely measurable in (partial) years.

As you can imagine, excitement and hopes are as high as the list of questions is long. Please know that in addition to regular communication with the CAIS community, we are sharing an FAQ page along with a tool for families to ask additional questions. We will be planning a future community gathering to present details of this monumental and transformative project as they develop.

It's been a long journey to our Forever Home, but at 40 years we no longer have any doubts that we have found it.