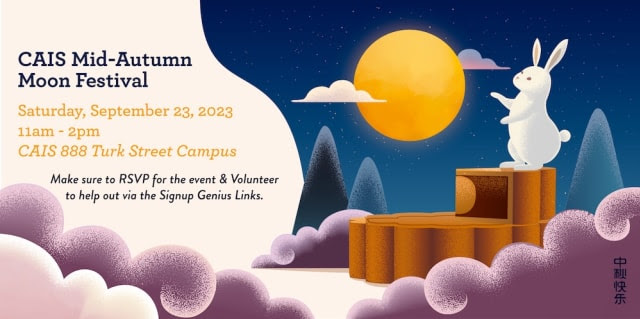 This year, the Mid-Autumn Festival (中秋节 Zhōng qiū jié, sometimes called the Moon Festival in the West) is next Friday, September 29. It is one of the most important, family-centered holidays in the traditional lunar calendar. Accordingly, the CAIS Family School Alliance (FSA) is hosting our annual celebration tomorrow, September 23, from 11:00 a.m. to 2:00 p.m. at the 888 Turk Middle School Campus in honor of this traditional Chinese holiday.
The Mid-Autumn Festival, like American Thanksgiving, is held in part to celebrate the harvest. There are different variations of the story behind this festival, most of which involve the mythical archer Houyi 后羿 visiting his beautiful wife Chang'e 嫦娥, the Goddess of the Moon, once a year on the 15th day of the eighth lunar month—when the moon is full. As with Thanksgiving, families try to reunite on this day, and there is much symbolism surrounding the full moon. The moon is round, and the circle it forms is symbolic of the family uniting together for a meal called tuán yuán fàn 团圆饭 or "reunion dinner." The three Chinese characters literally mean "round circular meal," evoking the image of the moon. Families sit at round tables and eat mooncakes, which are also round (although nowadays you can find square ones, and ones made of ice cream).
If the circle is incomplete (i.e., if a family member is away) then families say that they can at least look at the round moon and think of their distant family members—who are looking at the same moon—and then the circle is completed. The experience of the distant family member is captured in the poem "Thoughts on a Quiet Night" (Jìng yè sī 静夜思) by Tang 唐 Dynasty (618-907) poet Li Bai 李白 (701-762). Li Bai is easily the most famous poet in Chinese literary history, and "Thoughts on a Quiet Night" is easily his most famous poem—there is not a school child in China who cannot recite it. Here it is in Chinese, pīnyīn, and English:
《静夜思》
床前明月光,
疑是地上霜,
举头望明月,
低头思故乡。
Jìng yè sī
Chuāng qián míng yuè guāng,
Yí shì dì shàng shuāng,
Jŭ tóu wàng míng yuè,
Dĭ tóu sī gù xiāng
Thoughts on a Quiet Night
Before my bed the moon shines brightly,
I suspect there is frost on the ground,
I raise my head and gaze at the moon,
I lower my head and think longingly of my home.
Perhaps many of our CAIS international families are thinking of and missing their distant family members this evening. Nowadays, in order to feel closer to their distant relatives and friends, Chinese exchange billions (literally) of lyrical WeChat messages on the evening of the Mid-Autumn Festival, all expressing wishes that they could be together with their distant friends and family. I've received hundreds of such messages from friends, all displaying clever uses of Chinese characters expressing "circle," "round," and "completion."
I hope that you all will help us celebrate the importance of family by completing the circle and attending the FSA's Mid-Autumn Festival family event tomorrow, Saturday, at the 888 Campus.