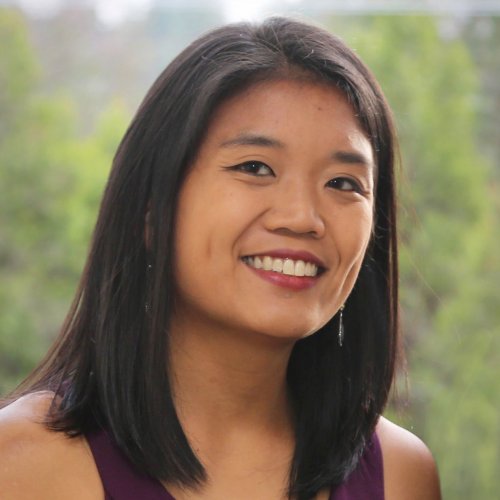 Katrina Soo Hoo graduated from CAIS in 1999 and has since become a graphic designer specializing in motion design and animation. Keep an eye out for her work in the CAIS Strategic Vision – she created the Firedragon illustrations that represent CAIS's core values!
Q: How did you get your start in art? What did the road to becoming a graphic designer look like and what does a standard day look like for you?
A: I always enjoyed illustrating when I was younger, but it was mainly a hobby and I never thought about what kinds of careers could come from it. A few months after completing my undergraduate degree in piano performance, I had a change of heart and realized I needed to find a new direction; I didn't know exactly what graphic design was when I saw classes for it in the SF Community College catalog, but it sounded like it might be interesting so I gave it a try. A couple years later, I moved to NYC and took a few semesters in Communication Design at Parsons, and it was there that I discovered the world of motion graphics, which I fell in love with and knew I had to get into. Even though it's been quite a few years since I graduated and started working, I'm constantly learning and updating my skills with new techniques and graphics programs—the learning process never ends, but it's extremely rewarding.
Because I freelance, I have some flexibility with my schedule and the types of jobs and places that I work for. When I get hired at studios for a project they're working on, I work on-site during their hours; but since they handle all the client communication and project management, I can focus solely on the graphics. If I take on direct-to-client work (like the Firedragon illustrations), I can work remotely on my own schedule, but it means I have to set aside time for client emails and other administrative tasks.
Q: What was the process of creating the core values illustrations like?
A: I always start by making a creative brief, in which I write up what the client is looking for and gather a few visual examples to share with them to make sure that we're all on the same page about their goals. Next, I came up with a few pencil sketches for each core value, to nail down the overall idea and composition—I made sure to give them a few options to choose from. I presented these for feedback and approval before refining them digitally and making sure that the style and details were consistent with the existing Firedragon logo. Clear communication at each step is key to ensuring that the design process goes smoothly and efficiently.

Q: What's a favorite CAIS memory/tradition of yours?

A: I don't remember if this was an annual tradition or if it was just for one year, but when I was in elementary school, we celebrated International Day by going from classroom to classroom, where a different teacher or parent decorated it and gave a presentation on the culture of a country that they had some sort of connection to or special knowledge about (I specifically recall Japan, Mexico, Tibet, Malaysia, and Holland). It was a really fun way to learn, and to feel how our world is so interconnected with so much to learn from each other. I remember telling friends about this in more recent years, realizing what a unique experience this was, and feeling so fortunate to have had it at a young age.
Q: What does being a CAIS Firedragon mean to you?

A: To me, being a Firedragon means recognizing the beauty and value of other cultures, and embracing how much we can learn from them.
Q: Any advice for all of the budding artists and doodlers at CAIS?

A: Make the kind of art that you really enjoy making, and find inspiration in the things around you that are interesting to you. You'll always get better at what you enjoy practicing and doing more of.

If you want to check out more of my illustration and animation, you can see other projects on my portfolio site at katrinasoohoo.com, or @soohoo.tv on Instagram.