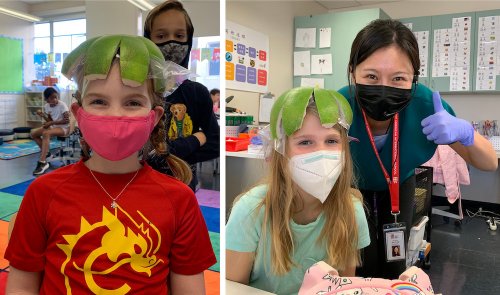 In September we celebrate one of the most important festivals in Asian countries, 中秋节 (zhōng qiū jié), the Mid-Autumn Festival. When life threw us a curveball last year, our whole school demonstrated perseverance, courage and resilience by working hand in hand (though socially distanced, of course!) to respond to COVID regulations and requirements while supporting our students' emotional well-being and offering them the best dual language education even in the face of such unprecedented circumstances.
Thinking back to last September, students and teachers were all separated from each other and could only connect by meeting on Zoom. The Mid-Autumn Festival symbolized a sense of reunion that had a completely different cultural meaning at its core. With the return of in-person teaching for all grades, we started to see a rainbow across the sky as we successfully navigated all the regulations and guidelines to keep students safe. Joining this school in my role as the Chinese Program Director, I have the privilege of sitting at the front row to witness how the CAIS community collaborates so efficiently. Therefore, this year's festival is especially meaningful to me on so many different levels.
Reunion, Reconnection, Reflection
Chinese people worshipped the moon for a bountiful harvest. This festival takes place on the 15th day of August by the lunar calendar, which is on September 21 this year by the Western calendar. It was believed that the moon on this day is the fullest and brightest of the year, which coincides with the harvest time in the middle of Autumn.
In Chinese culture, objects with a round shape are often associated with harmony and family reunion. These symbolic meanings have deep roots and are connected with how Chinese culture values ethics. For any ethnically Chinese people who are away from home, eating mooncakes and appreciating the moon truly strikes a chord deep inside us. I, for one, am encountering this same sentiment with a profound melancholy and nostalgia.
Today I am thinking deeply about all the Chinese members at CAIS who have not been able to visit home in the past 19 months, my family whom I have been apart from for almost three years, and people in Taiwan who have been patiently waiting for the COVID vaccines. Although we are not physically with our loved ones abroad on such a significant day, this type of remote reunion generates a psychological coherence between us, which illustrates our cultural identity. As I am reflecting on a Moon Festival (another name for this holiday) from when I was younger, I recall the joy and laughter of having all-night-long, Taiwanese-style barbeque and eating mooncakes for a whole week. These are the most unforgettable memories I have ever had and will always cherish.
A special way to celebrate Mid-Autumn Festival with our students this year has been to capture my favorite childhood memory of eating pomelo and wearing its skin on the head as a hat! Even more creatively, our 3rd grade teacher Wei Song had her students decorate their pomelos!
I cannot express how fortunate I am to be able to share this very moment with CAIS in my first year, a tight community where I find a strong sense of belonging and inclusion. CAIS is a place where I can reconnect my cultural roots with the whole community which deeply values and understands the true meaning beyond the cultural celebrations that vary in different regions of China or any other Chinese influenced Asian countries.
To conclude, I would like to dedicate a poem to you—A Moonlit Night 《月夜》. It depicts family bonding, its relationship, and affection, and was written by Tang Dynasty (618-907) poet Du Fu 杜甫:

《月夜》 Yuè Yè (唐杜甫)
今夜鄜州月,闺中只独看。
jīn yè fū zhōu yuè, guī zhōng zhǐ dú kàn
遥怜小儿女,未解忆长安。
yáo lián xiǎo ér nǚ, wèi jiě yì cháng'ān
香雾云鬟湿,清辉玉臂寒。
xiāng wù yún huán shī, qīng huī yù bì hán

何时倚虚幌,双照泪痕干。
hé shí yǐ xū huǎng, shuāng zhào lèi hén gàn
A Moonlit Night
Yonder in Fuzhou, ah th' moon this eve,
You gaze at it in your bower alone;
Too young our little children must be
To think about Chang'an where I roam.
Your Cloud hair knot moistened in dew sweet,
And your Jade arms chilly in the cold;
When shall we two sit by th'drape, tear-free,
To bask together in the moonglow?
---
Happy Mid-Autumn Festival! ​
May the round moon bring you a happy family and a successful future.
祝福各位
中秋快乐
月圆人圆事事圆
Cindy Chiang | 姜欣怡
(她 she/her/hers)
Chinese Program Director 中文部主任