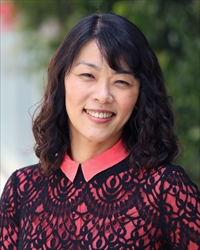 Chinese Program Director Cindy Chiang
This week Chinese Program Director Cindy Chiang was being interviewed by students in third grade Chinese classes, so we grabbed the chance to ask her some questions of our own!
Q: What is something that didn't make it into the thumbnail biography of you last spring that we should know about you?
A: "I am a fun person and I always love connecting with people. Throughout my life, I've naturally been the person reaching out to people and pulling things together. I like to be the oil that keeps things running. 'Let's do something! Let's get people together!' That coincides well with my work; all my roles from curriculum coordinator now to director—have tapped into this."
Q: Which one of the Core Values Firedragons resonates most with you and why?
A: "Curiosity echoes my emphasis on inquiry based learning. Young children are naturally curious, always asking 'Why? Why? Why?' The challenge for teachers is how to keep fostering that spirit of inquiry as they get older. Curiosity is the best trigger for learning. If you are truly, innately driven by curiosity then the teaching can connect so much more effectively."
Q: You have joined CAIS as we are reimagining immersion. What do you imagine for immersion at CAIS?
A: "I am gathering and analyzing best practices from peer schools and our program up close (I already have three pages of notes and observations). It's important for our instructional practices and approach to remain innovative. I see immersion at CAIS progressing as an increasingly inquisitive learning environment. Chinese is the medium to satisfy the children's natural curiosity; using the language to learn, rather than just learning the language.
We have embarked on full immersion in Preschool and I know that our immersion model in older grades also will look different down the road. I can see certain courses or subjects being taught in the target language. Just as we added the Chinese specialist to ensure exposure to Chinese even on English days, I see that we could increase or maintain exposure to Chinese daily through activities and classes in Chinese, such as a Chinese oral club. I am on the lookout for all kinds of opportunities for students to be exposed to Chinese in other settings and subjects (for example theater in Chinese because it's such great oral practice.)"
As she headed off to be interviewed by the third graders, Cindy made the connection that the student's questions are a good example of the kinds of authentic tasks she likes to see that spark and satisfy children's curiosity.