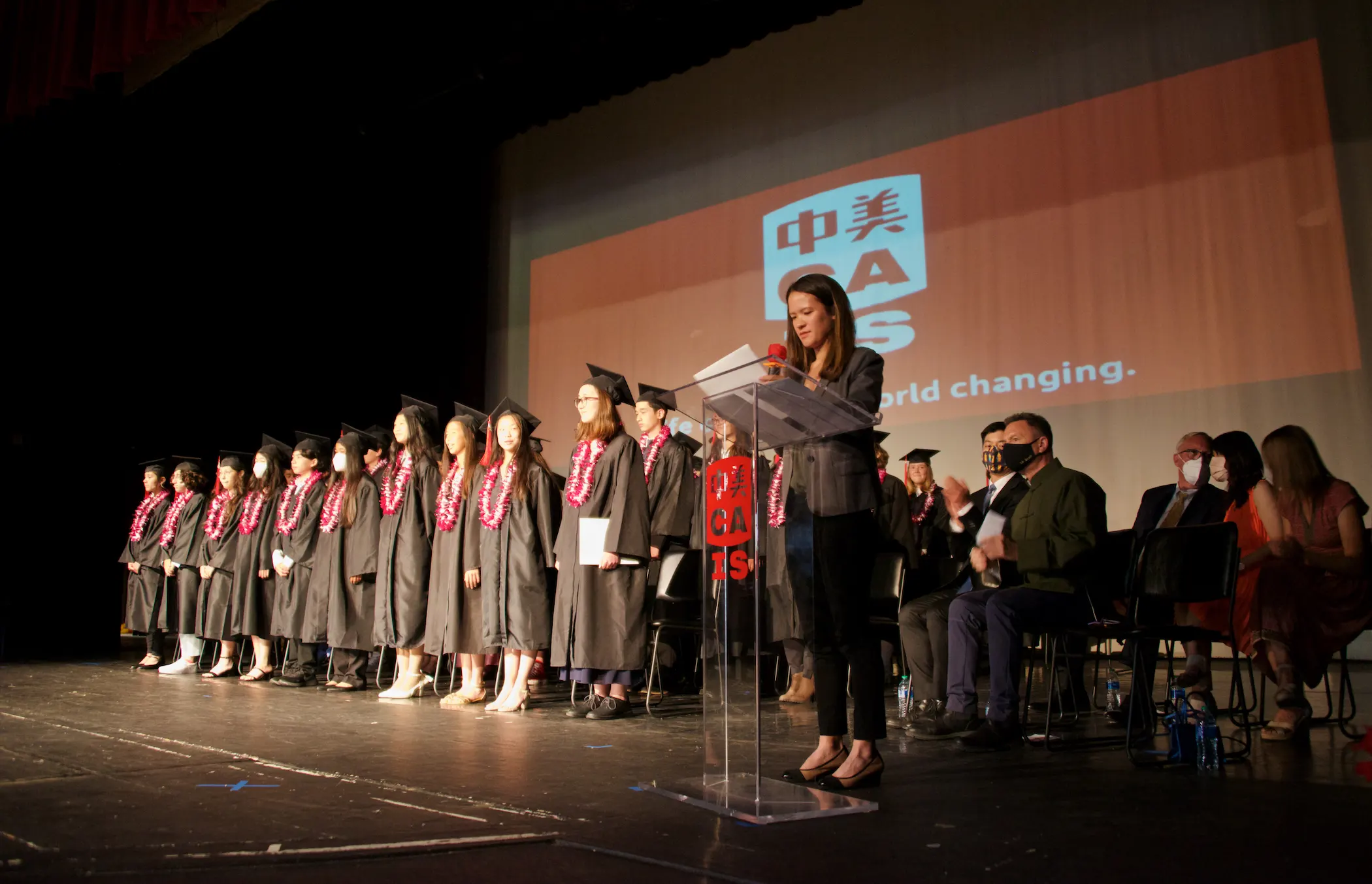 By Kelsey Rasmussen '12
"It was an absolute honor to MC CAIS's 8th grade 2022 graduation ceremony. It was extra special for me because I was a 2012 graduate. Just 10 years ago, I parted ways with CAIS after 11 years of schooling. My journey at CAIS began with two years of Pre-K, and ended at the age of 14. My days at CAIS were not only jam packed with Chinese culture, but were completely formative in making me the person I am today. I remain enormously impressed by CAIS's comprehensive and immersive curriculum, which prepared us to be engaged global citizens.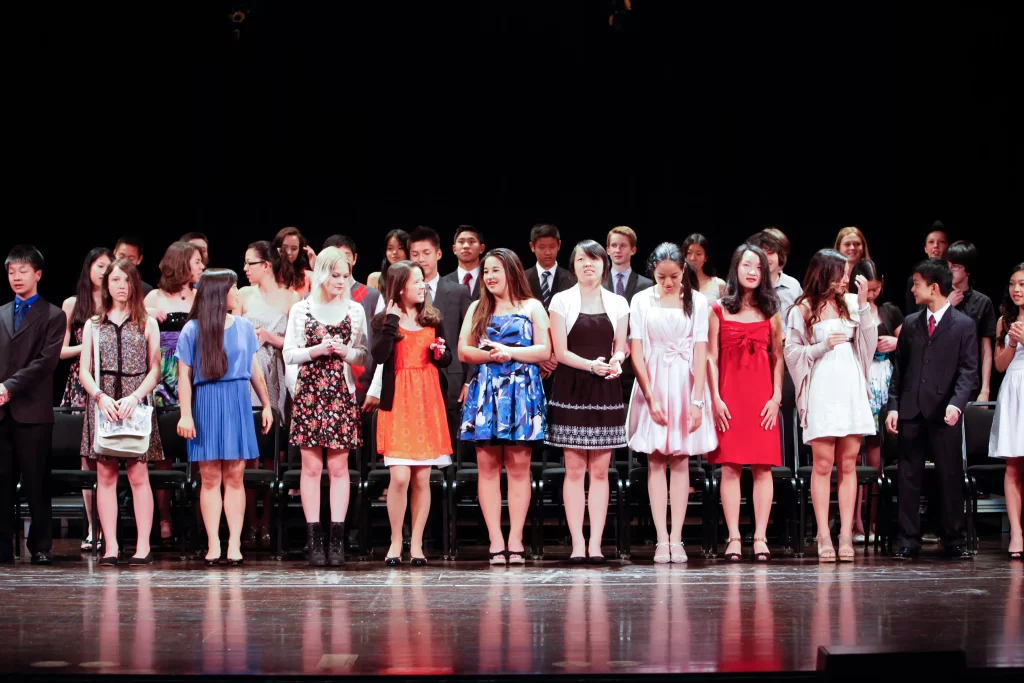 As I stood at the podium addressing the crowd of eighth grader's families before me, I had flashbacks to performing on stage at countless winter programs. As the eighth graders performed song and dance routines in both Chinese and English, I watched in awe. When the eighth graders ended the ceremony singing about how much they loved their fellow classmates, I thought about all the CAIS classmates who remain my best friends to this day. When Mr. Bissell spoke, I recalled my own graduation day in 2012 when he also made the crowd laugh. At the end of the graduation ceremony, the drummers began and lion dancers paraded on to the stage. I found myself wanting to lift my arms up and join in, realizing I had never forgotten the lion dancer's routine.
In sixth grade, I had the privilege of being selected as one of the three lion heads who would perform in Mass Greeting. I was ecstatic. I had experienced lion dancers coming into the classroom to clear the room of bad spirits during the Lunar New Year for eight years at that point. Each year I'd gasp in awe as the lion dancers strutted around the classroom, batting eyelids and dancing on tables.
I'm coming up on the two year mark at my firm, Forge Global where I am a Strategy Associate. Forge provides private company shareholders liquidity, while giving accredited investors access to pre-IPO stock. Forge went public on March 22, 2022, and is now a publicly traded security on the New York Stock Exchange. I am on Forge's Settlements team, where I work with private companies, identify conversion ratios from relevant mergers and acquisitions, and communicate with Forge's investors. I joined Forge during the startup stage, when we were a Series B company. I'm the most tenured member on my team, and have assisted in the training of eight employees to date, including my manager. I graduated from UC Santa Cruz in 2020, making me a banana slug with a two degrees, one in Global Economics with an emphasis on China, and the other is Politics, with an emphasis on American government. While at UCSC, I interned at the Federal Trade Commission in Washington D.C. under the Office of General Counsel. One of the best experiences of my life so far was studying abroad in Shanghai at Fudan University in the Fall of 2019. It was my second experience immersing myself into Chinese society, and this time it was for four months. My first experience was the two week study abroad buddy exchange trip I did during eighth grade at CAIS. That initial CAIS trip inspired me to always step outside my comfort zone, and explore when I have the opportunity to.
The CAIS experience is one that is unique and special. Not only did it give me a lifelong community, but I can go to a brand new city and feel at home instantly when I come across a Chinese restaurant or neighborhood. CAIS provided me with a deep understanding of my own cultural heritage, instilling something that will always be a part of me."