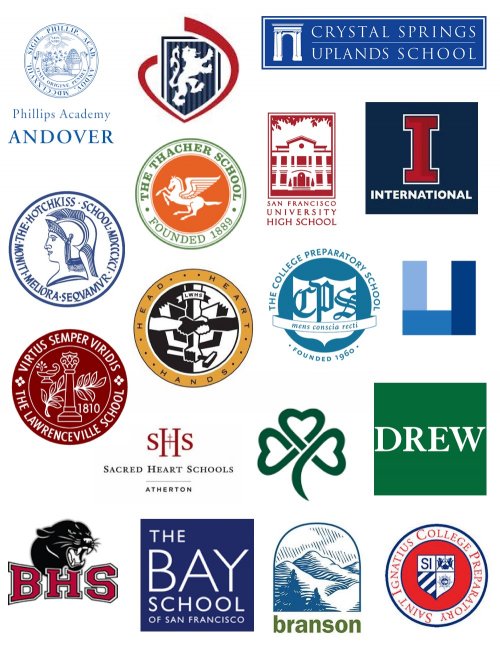 In any year, the high school search process for the Bay Area and beyond is exceptionally complex and competitive. The pandemic gave the added wrinkle of moving the process entirely online, which made our dedicated efforts to find the best fit all the more important. I am thrilled to report that High School Counselor Sean Mosconi assisted the Class of 2021 through this extra challenging year to yield a characteristically outstanding slate of high school acceptances and placements once again.
Mr. Mosconi organized mock interviews with the assistance of a corps of parent volunteers and deftly guided families through the search, researching schools, helping students find their best fit, and advocating for each student. Combined with the track record of success that CAIS alumni demonstrate at academically rigorous secondary schools and the Class of 2021's impressive credentials, this extremely thorough process yielded the following results:
Independent Day Schools
Archbishop Riordan High School: 1 acceptance
The Bay School: 24 acceptances
The Branson School: 1 acceptance
College Preparatory School: 2 acceptances
Crystal Springs Uplands School: 2 acceptances
Drew School: 6 acceptances
Germantown Friends School (PA): 1 acceptance
International High School: 13 acceptances
Lick Wilmerding High School: 8 acceptances
Marin Academy: 2 acceptances
Sacred Heart – Atherton: 1 acceptance
Sacred Heart Cathedral Preparatory: 12 acceptances
Saint Ignatius College Preparatory: 5 acceptances
San Francisco University High School: 9 acceptances
Stuart Hall High School: 2 acceptances
Urban School of San Francisco: 6 acceptances
Boarding Schools
Choate Rosemary Hall: 1 acceptance
The Hotchkiss School: 1 acceptance
The Lawrenceville School: 1 acceptance
Middlesex: 1 acceptance
Phillips Academy Andover: 1 acceptance
St. Mary's School: 1 acceptance
The Thacher School: 1 acceptance
Class of 2021 Attendance
High School Counselor Sean Mosconi advises families to focus on fit and consider options which match an array of student interests and strengths, whether in the Bay Area or beyond. Our Curiosity Core Value exhortation to "wonder about our world and imagine new possibilities" underscores our emphasis on best fit which guides the high school application process. Accordingly, the particular mix of schools varies from year to year while consistently reflecting that students continue to challenge themselves. Students of the Class of 2021 plan to attend the following:
The Bay School
The Branson School
Burlingame High School
College Preparatory School
Crystal Springs Uplands School
Drew School
The Hotchkiss School
International High School
The Lawrenceville School
Lick-Wilmerding High School
Phillips Academy Andover
Sacred Heart – Atherton
Sacred Heart Cathedral Preparatory
Saint Ignatius College Preparatory
San Francisco University High School
Stuart Hall High School
The Thacher School
Urban School of San Francisco
Congratulations to the Class of 2021!