I'd like to highlight all of the things that have been happening with and at the 19th Avenue campus. There has been a lot of activity, and we are getting a taste of the opportunities that our 5.4-acre, 120,000 sq ft campus offers us. Whether it's athletics, graduation, school dances and faculty in-service or 春Fun (our domestic immersion program), in-person ShowCAIS, and the all-school year end picnic, 19th Avenue allows us to do things in a way we have never been able to do before. The opportunities are seemingly endless; our campus will simply be unparalleled in the city of San Francisco.
In-Service at 19th Ave Was a Slam Dunk
The morning of March 14 proceeded as most In-service days do—productive meetings and enlightening professional development. The afternoon, though, kicked things up a notch, as faculty and staff headed across town to do a deep dive at the 19th Avenue Campus. The energizing experience gave everyone a chance to understand the space, reflect, dream, and give input on design ideas, while having the opportunity to ask questions and understand all the excitement firsthand. Teachers explored the abundance of spaces on campus and answered for each:
What opportunities do you imagine for this space?
What are you excited about?
What questions do you have?
Dividing faculty/staff into nine teams and turning the effort into a Scavenger Hunt helped sharpen the focus with some friendly competition. Teams had fun competing in different tasks in various marquee spaces such as:
Creating origami Firedragons in the Art Studio
Composing 30-second dances in the Dance Studio
Finding the oldest book in the Library (the winner was a 1908 tome on California Missions)
Coming up with a slogan for the future Middle School Learning Center
Taking a video of their best group basketball trick shot in the gym
Special thanks to curriculum directors Cindy Chiang and Cristina Calcagno for designing such a joyous way to elicit maximum engagement and learning from the day. For a glimpse of the fun, be sure to catch all the smiles with the "nothing-but-net" video below that Director of Finance and Operations Steve Bajc captured.
---
Middle School Had 19th Ave Hopping
Two years is a long time—and an eternity in teen-terms, so you can imagine the off-the-charts exultation as Middle Schoolers were able to enjoy their first in-person dance since the 2019-2020 school year. Middle School Student Government held a "Spring Swing" Dance on March 17 at our new 19th Avenue Campus. Seventh grader Autumn R. captured the fun from a student's-eye view in her article for the March Middle School Update.
Chinese Program Director Cindy Chiang kindly recorded some of the joy for posterity as she chaperoned. (Good to know that the refrain "Hey, Macarena!" still gets a dance floor jumping after nearly 30 years!)
---
Sharing 19th Avenue with Prospective Families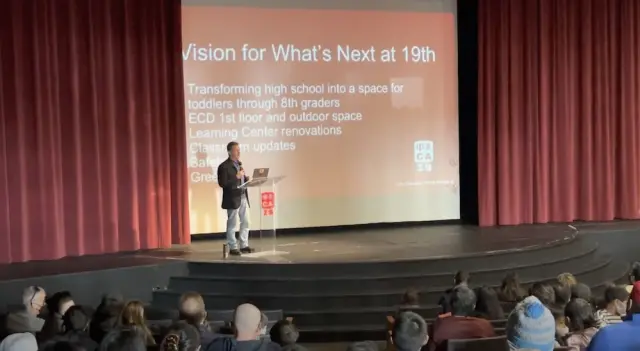 While the admission process was largely virtual again this year, Admission Director Linda Vann-Adibé has wisely found ways to give prospective families in-person glimpses of current and future CAIS spaces. The first Admission 19th Avenue Open House was held March 5 to great success. Prospective families gathered in the theater to hear about the plans and vision for the space and then were able to set off on a self-guided tour to see it all for themselves. Families were full of excitement at the prospects for the campus and their children learning here.
---
春Fun Brings a World of Learning to 19th Ave
In the face of continued restrictions that make group travel to China and Taiwan prohibitive, we are grateful to be able to take advantage of the wide open spaces at the 19th Avenue campus and give students a vital change of pace for this year's 春FUN program April 18-29. Global Program Coordinator Julie Farrell said it best in her announcement to families, "Building on the modest foundations of last year's cohorted, hybridized, distanced, and partially virtual 春FUN Immersion Program, we are very excited to announce this year's upgrades! Immediately following Spring Break, all Middle School students and faculty will press pause on the regularly-scheduled curriculum and spend two weeks fully immersed in Mandarin-language learning at our 19th Avenue Campus! We are thrilled to welcome guest instructors from across the Bay Area to engage students in everything from competition ping pong to darkroom photography—all in Mandarin, of course."
Our 19th Avenue Campus will also play a prominent role April 6-8 in the fifth grade Tri-School Mandarin Immersion Exchange. Our fifth graders and peers at the Chinese Program at Silicon Valley International School and Presidio Knolls School will enjoy three days of experiential learning at each of the three participating schools. They will engage in classes such as cooking, Chinese yoyo and Praying Mantis Gongfu—all with Mandarin as the primary language of instruction and learning. The CAIS Class of 2025 will have bragging rights as the first CAIS students to have class at the 19th Avenue Campus, the future home of their middle school.