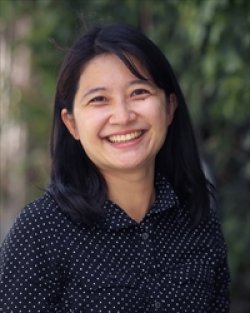 As Head of School, one of the most important responsibilities I have is attracting, hiring, developing and retaining top-tier talent. Case in point: one year ago CAIS hired an outstanding early childhood educator, Elaine Chang. I had been trying to persuade Elaine to come to our school since spring 2020; I have lost count of how many Zoom calls Elaine and I had before she agreed to join the CAIS team. I was, like, hallelujah!

For those of you whose children have been in Elaine's Preschool class, you know that she has been an impact player from day one. As I have become increasingly familiar with Elaine's talents and contributions over the course of this school year, I have realized that she is not only smart, dedicated, and hard working, but she is also a natural leader.

I feel extremely fortunate that Elaine is both able to step into a key leadership position and that we are able to retain her at CAIS. It is therefore with great pleasure and excitement that I introduce Elaine Chang as CAIS's next Director of Admissions and Enrollment Management.

I cannot think of a better person to represent CAIS to prospective families; Elaine is engaging and personable, curious and caring, articulate and confidence inspiring. She moved her family across the country from New York so that her daughter Phoebe could attend CAIS and Elaine could teach at our Preschool. She has a deep understanding of early childhood education and Mandarin immersion. She completed her master's thesis on preschool art education at Columbia University Teachers College where she also taught at Hollingworth Preschool which is associated with Teachers College. Additionally, Elaine has taught in numerous Mandarin immersion schools in addition to CAIS, including the Avenues World School, and Shu Ren International School in Berkeley. She played an important role in admissions at Avenues, and she has solid knowledge and creative ideas for employing data analysis and social media to enhance CAIS's position in the Bay Area admissions market. She has the mind of a parent, an educator, and a business woman.

Recently Elaine shared her feelings with me about her new position at CAIS:
"My family was warmly welcomed by CAIS last summer as my daughter and I both started our journeys at the Preschool. We immediately fell in love with this exceptional school community with engaging students, dedicated faculty, and supportive parents. It is my honor to become the next Director of Admissions and Enrollment Management. I am committed to combining my extensive immersion experiences as a learner, a teacher and a parent to continue building a strong and diverse school community. I look forward to connecting with prospective families, welcoming new families, and collaborating with current families, colleagues and alumni."
Special thanks to the faculty and families who participated in the extensive search process for this position. We cast the net nationally, and thoroughly vetted candidates from around the country. It's especially gratifying that we were able to find our star right here in the CAIS constellation. Please join me in welcoming Elaine Chang as CAIS's next Director of Admissions and Enrollment Management. She will be assisted in the transition to her new role by outgoing Director Linda Vann-Adibé, who has graciously agreed to serve in a consulting capacity to help onboard Elaine. This, in addition to the support of our capable and long serving Deputy Director of Admissions Sophia Jang, portends a successful admissions program as we prepare to move to the new 19th Avenue campus.