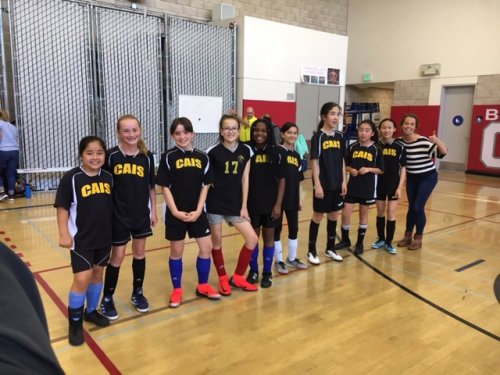 UPDATE: Girls 6th Grade Futsal wins SFAL Championship 8-1 over Friends!
Boys 6th Grade Futsal played their hearts out but fell 9-4 to CDS BLACK in a very competitive final!
---
Boys JV defeated Kittredge 10-5 in the Semi Finals on Wednesday and will be playing in the finals this Friday at Oak!
Girls JV beat Live Oak 8-7 on Tuesday and will advance to Finals on Friday at 151 Oak!
Girls Varsity Firedragons won Monday and will be facing Live Oak in the Semi Finals on Thursday, May 9!
---
Hello Firedragon Nation! May is here and that means Futsal playoffs! Once again CAIS is sending a strong group of teams into the postseason. Three teams across three divisions! Please come out and support our Firedragon athletes next week!
The goal-happy 6th grade girls and Coach Molly McCobb take a perfect 6-0 record into the playoffs and will face Live Oak on Tuesday, May 7 at 5:00 p.m. (151 Oak Street).

The scrappy 6th grade boys and Coach Eddy rode a late surge and ended up 4-2 in a three way tie for second place in the division! They will face Synergy on Tuesday, May 7 at 4:00 p.m. (151 Oak Street).

The explosive 7th grade girls varsity and Coach Gina D'Emilio stormed to a 5-1 mark on the year and will travel to face Burke's at 3:30 p.m. on Monday, May 6 at Burke's (7070 California St.)

If any teams get through, get out your red CAIS swag because The Finals are Friday, May 10 at 151 OAK!