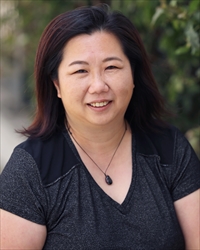 IT Manager Annie Yu
Since 2014, much of IT Manager Annie Yu's work has happened behind the scenes, making her one of the stealthiest stars on the CAIS team. The results of her work were front and center last Friday, though, as families enjoyed a spectacular recording of the student performances for Mass Greeting. While many faculty members had a hand in creating and editing individual pieces, Annie Yu did the lion's share (Tiger's share this year?) of the recording and video production. Whether it's quickly mastering the booth at our new theater for Jeff Bissell's 19th Avenue Open House presentations, deftly handling Zoom details for key community events such as the Online Talent Recitals, or stepping in last minute to DJ a Middle School dance a few years back, Annie Yu has a knack for sharing just the right talent for every occasion. We were delighted to have her reflect on the exhilarating whirlwind that was Mass Greeting 2022!
Q: How many hours of recording and hours of editing went into producing Mass Greeting this year? What was your happiest surprise in the process?

A: The teachers and I started to create the storyboard before the Winter Break and filmed it in mid-January. I used all day and all night of a three-day weekend to have the first draft ready for rehearsal. Once all was good, sound balance became the most important consideration; I needed to tune in at the same level for all pieces. I definitely enjoyed the process! My job was to share the teachers' and students' hard work with parents and present it as nicely as possible. Not a surprise, but our kids are amazing! No matter what, once the camera is on, they are all on board and performing as pros!
Q: Your skills for troubleshooting and fixing IT issues have long been well known, but your talents for deejaying and video production have been newer surprises. Where did you pick up those skills?

A: I started my DJ career in high school and worked in the studio and live music venues as a part-time sound engineer for many years. I learned on the job, no classes or training programs. When I am interested in something, I dive into it all the way. My mom always complains about me spending all my money on sound equipment!
Q: Having worked in the theater at 19th Avenue, what excites you most about the new facility?

A: I enjoyed working as a sound engineer in Hong Kong. It's a great market and all my sound buddies are there. I thought my sound career was over when I decided to return home to San Francisco. I've learned though, never to say never! Once I touched the audio/speaker cables in the booth at the 19th Avenue campus theater, I could tell right away without question what each one did. It's a very comfortable space for me!
Q: How do the Core Value Firedragons' skills or mindsets come in handy in the sound booth and working on productions?

A: Inclusion is the most important one in my mind. Nothing can be done solo. We have to include everyone and communicate well to get things done. Curiosity helps us stay focused on what's new and open to what kids can do. For me, Perseverance means, "Don't look at the clock. Make everything go nicely!" It can take Courage to speak up and share thoughts with teachers. Kindness reminds me, nothing is perfect. If parents and the audience like it, it is worth it!